Saturday, September 17, 2011, 02:00 PM
Posted by Administrator
A long time ago, I developed a BBS software for Atari ST...
This computer was ahead of the times, he offered a powerful CPU, a GUI (like the Macintosh), and was affordable !
Unfortunately marketing and also product development was chaotic.
I remembered it again and buyed one again. Here is my new (old) Atari Mega STE: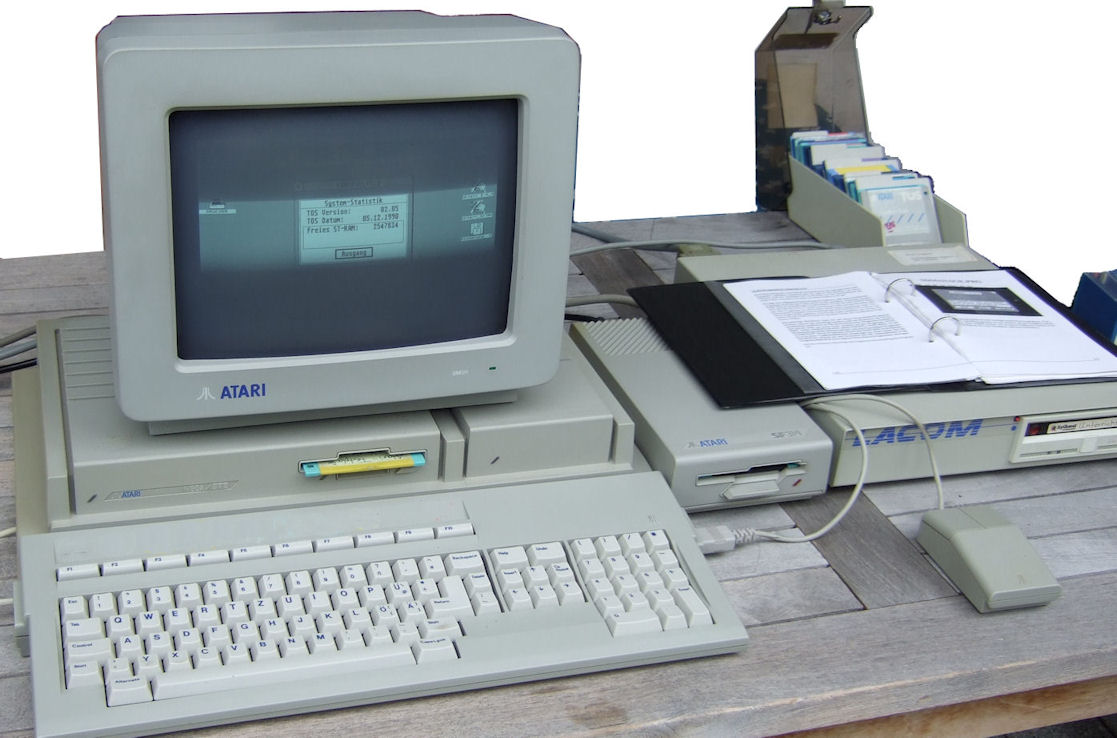 It comes with a TT-alike case but only with a 16MHz 68000 CPU, 4MB RAM, a build in harddisk, an additional floppy drive, a Lacom/Syquest 44MB removable (hard)disk and an obligatory monochrome monitor (SM124).
At the moment, it runs without problems (boots from harddisk), but I did not get a Lacom driver/utility disk also.
Also amazing, that keyboard is really usable, compared to earlier ST models, this was really a progress.
I started to look for Atari ST software and I was a bit surprised - you can't find so many sites with software ... may be some with games, but applications and utilities ? Nope. I even convinced you can find CP/M software more easily than ST software :-(
Update: Meanwhile I changed the TOS version from 2.05 to 2.06, when powering up, now I got an Atari Logo and a boot progress bar :-) Thx to "Gaga" (he sold me these 2 TOS EPROM Chips, discussion about it can be found at
http://forum.atari-home.de
) again ...

add comment
( 193 views ) |
permalink
|
related link
|





( 3.1 / 8713 )
<<First
<Back
| 32 | 33 | 34 | 35 | 36 | 37 | 38 | 39 | 40 | 41 |
Next>
Last>>